Products: Options: Cloth
Pacific Press Filter cloths are manufactured in house to our in house quality standards.The cloths are selected based on their performance in specific applications. The fiber construction, weave and micron rating are variables that allow the cloth to be manufactured foroptimum performance.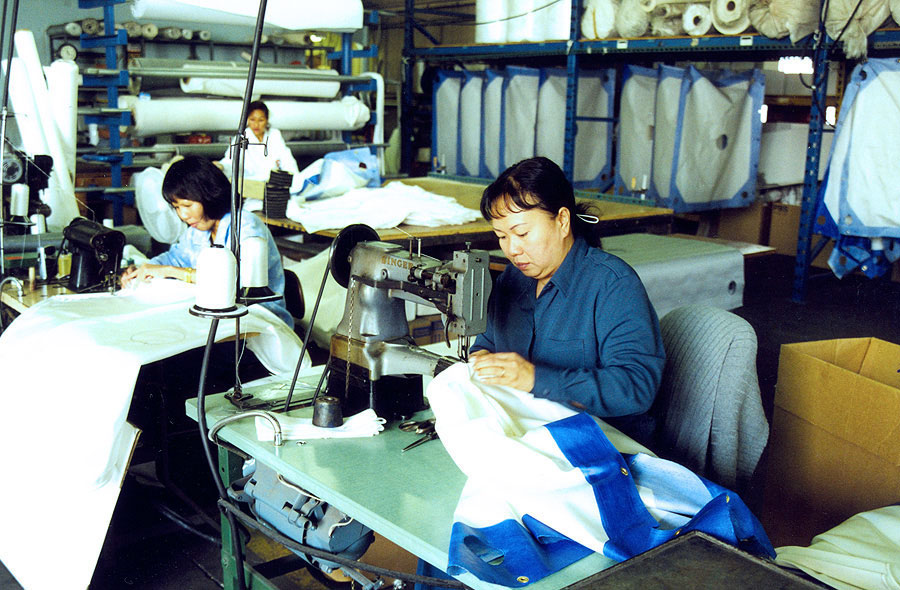 FTW = Fancy Twill Weave

Permeability=0.5-1.0 CFM

This material is used very extensively in the food processing industry. It offers a very tight 3-5 micron retention with high release characteristics. The Fancy Twill Weave provides the most durable of all the filter cloths and can be used in high pressure applications for thousands of cycles.

PMM = Polypropylene Mono/Multifilament material

Permeability=5-15 CFM

This cloth performs well in oily, sticky, or tacky solutions such as oil sludge. It is rated at 10 microns. This mono-multifilament polypropylene cloth has dual characteristics. The monofilament weave (black shiny side of cloth) faces the cake side, giving high release characteristics, while the multifilament side allows for tight micron retention. It is quick to clean upand is frequently used in precoat and bodyfeed operations.

PMU = Polypropylene Multi-filament material

Permeability=1-5 CFM

This cloth is the most popular cloth for metal hydroxide, and preconditioned or polymerized sludges. It offers medium cake release characteristics with a 5 micron retention. The durability of this fabric has made it a standard for most metal hydroxide applications. It is typically used in the metal finishing industry.

PSM = Polypropylene Monofillament material

Permeability = 100 CFM

This material is used when extremely high flow, low clarity applications. It is used also where any type of multifilament material will blind off such as in laundry applications. It is an excellent material to be used in conjunction with a diatomaceous earth (D.E.) precoat. It will retain average size D.E. and act as a septum. It will allow liquid to pass through while retaining the D.E. without a high pressure drop. It has an average micron retention of 100 micron or less. It offers the coarsest material while still being small enough to use with D.E. It provides excellent release characteristics.
.
Company | Products | Parts & Services | 5 Steps to Select a Filter Press | Technical Information | Markets | Rentals
Copyright 2012 by PacPress Inc. All Rights Reserved